Legal Support / Professional Advice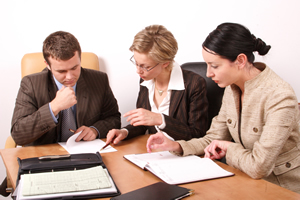 PA Principals Association offers legal advice to its members. Often school administrators face situations in which they are uncertain how to proceed. When in doubt, call PA Principals Association. We do not claim to have all of the answers, but we can serve as a sounding board, offer advice and help you network to receive the answers you seek. It is always best to be proactive, and such assistance is one of our functions.
Legal support is also an area where we can be of assistance. Each member receives $1,000,000 of liability coverage and up to $10,000 of support in job-threatening situations. The latter accumulates at $1,000 per year for each uninterrupted year that you are a member. This coverage is invaluable. It is reassuring to know that you have advice, consultation and, if necessary, an attorney to support you.
Principals' Legal Assistance
If confronted with a job-threatening legal situation,
named in a law suit or an Act 93 issue,
contact the PA Principals Association office immediately at
(717) 732-4999
or the Western office at
(412) 595-7754
Once the facts have been reviewed,
appropriate legal action will be
determined and initiated.
Types of job-threatening actions include:
Letter of reprimand
Unsatisfactory evaluation
Threat to dismiss or suspend
Suspended from work without pay
Legal Update PowerPoint Presentation by Elizabeth Benjamin, Esq., from the 2013 PA Principals Association Conference – Oct. 29, 2013
Download Documents from May 2011 Legal Corner Article
Click on the link below to download the documents from the Legal Corner article (Improving Teacher Performance Through Improved Evaluation and Supervision), Vol. 15, No. 2, May 2011.
http://www.paprincipals.org/images/stories/documents/legal_corner_docs.pdf
PA Principals Association Publication Available for Purchase — Student Issues: A Guide for Principals, Administrators
and Supervisors
To be used as a guide to assist principals and supervisors in fulfilling their obligations as educators and administrators
to the students and families they serve. It is intended to provide an overview of legal issues and administrative
challenges facing educators today, with direction, advice and recommendations for managing those issues
effectively.
Click here for the cost and how to order.