REGISTER TODAY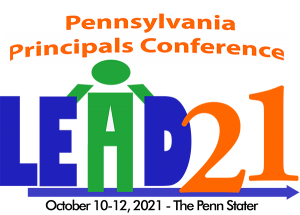 REGISTER TODAY FOR THE LEAD21 CONFERENCE!
Save $50 with Early Bird Discount!
Up to 70 Act 45 PIL hours are available!
The Pennsylvania Principals Conference – LEAD21 – will be held from October 10 to October 12, 2021 at The Penn Stater Hotel & Conference Center, located at 215 Innovation Blvd, State College, PA 16803.
Click Here to Register for LEAD21!
Please share this SAMPLE LETTER with your Superintendent or Boss about why you should attend the LEAD21 Conference!
Jimmy Casas & Dr. Joe Sanfelippo
Legal Update
Michael I. Levin, Esq.
Once again, a service project will be held in conjunction with the Diamond Sponsors' Social at the annual conference. This year, it is donating to a local Backpack Weekend Food Program.
Please click here to learn more information about The Backpack Weekend Food Program.
Donate to Backpack Weekend Food Program 
(To Receive An Extra Diamond Social Drawing Ticket!)