PA Principals Association Podcast – "3 in a Quarter" – Jan. 15, 2022!
January 4, 2022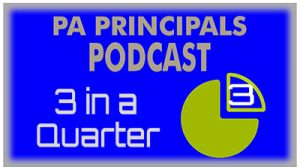 We are excited to announce the launch of "3 in a Quarter," the PODCAST of the PA Principals Association. "3 in a Quarter" will be released twice a month and focus on three issues or takeaways each episode and is intended to be only 15 minutes in length (or a quarter of an hour). The podcast is meant to meet the needs of busy principals by allowing them to tune in during their commute time, workout time, walking time, etc.
The first episode will be available on January 15th. You can find it where you find all of your podcasts: Apple Podcasts, Spotify, Google Podcasts, etc. Remember to search for 3 in a Quarter
DON'T FORGET TO TUNE IN ON JANUARY 15TH!