Drexel University to Offer Discount for Doctoral Program to PA Principals Association Members
In cooperation with PA Principals Association, Drexel University will offer its Ed.D. in Educational Leadership and Management at a discounted rate to Association members. The program takes place at Harrisburg University, 326 Market Street, Harrisburg, PA. Applications are currently being accepted.
For further information contact:
Dr. Allen C. Grant, director of the Ed.D. • (215) 895-6232 • acg48@drexel.edu
or
Amber Turner, program manager • Drexel University - School of Education • (T)215.895.1034 • (F) 215.895.5879 • ant36@drexel.edu
Members, please note: You must notify Amber (see above) that you are a PA Principals Association member if you are applying to Drexel prior to taking any courses.
The Drexel University graduate catalogue: http://www.drexel.edu/catalog/grad/edu/ed-leadership-index.htm
Robert Morris University - Instructional Management/Leadership Online PhD Program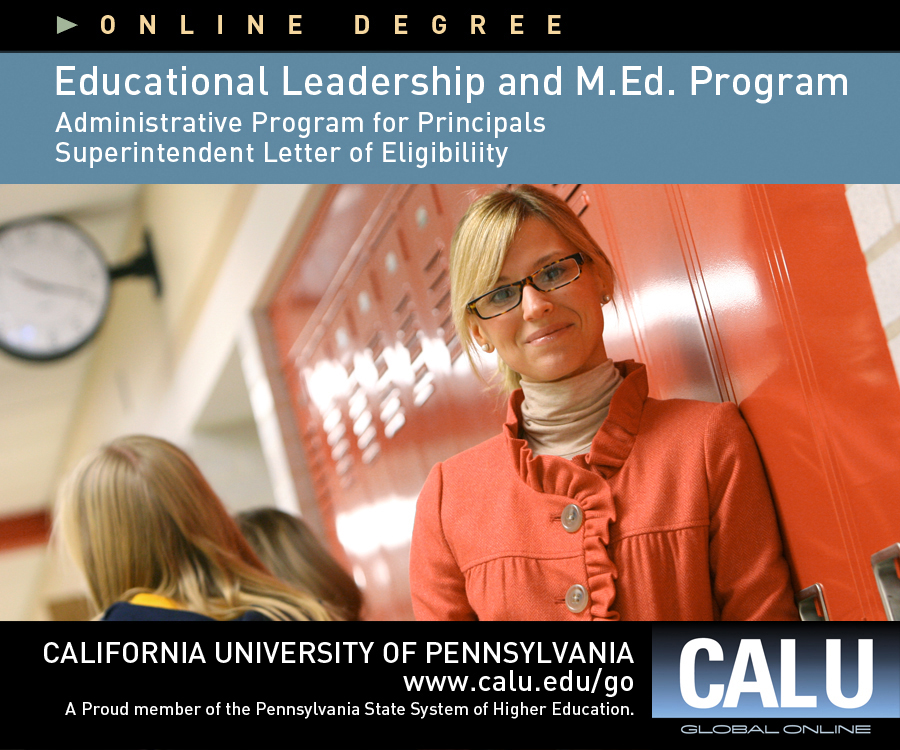 Our Administrative Program for Principals and Superintendent Letter of Eligibility are approved by the PA Department of Education.
www.calu.edu/go
You want to keep learning, even after class. That's why California University of Pennsylvania offers
flexible graduate programs in educational leadership designed to suit your busy schedule.
To kick start your academic career, contact Dr. Silvia Braidic, Program Coordinator, at braidic@calu.edu or contact Cal U's Online Graduate programs in Educational Leadership at 866-595-6348 or e-mail calugo@calu.edu.
APPLICATIONS ARE CURRENTLY BEING ACCEPTED FOR THE PRINCIPAL AND SUPERINTENDENT PROGRAMS
SPRING AND SUMMER 2018 SEMESTERS